WorknLearn
WorknLearn proudly supply stationary and office supplies to a large client base across the Sunshine Coast region.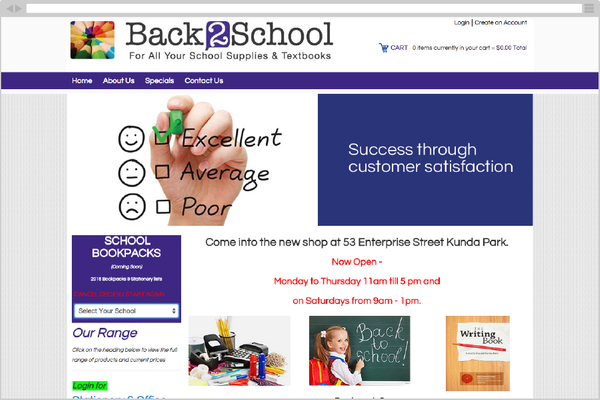 The Ninjas go back to school.
WorknLearn is a family owned business providing stationery, school and office supplies to customers throughout the Sunshine Coast region. In 2013 the Ninjas were given the task of creating a customised website for parents to place their children's school booklist orders. The Back2School site has become an integral part of the WorknLearn business with over 5,000 orders being placed during the back to school period.
The integration with Reckon imports product data into the website and sends all orders back as Sales Receipts. This automated process saves WorknLearn a enormous amount of time and ensures that inventory reports are accurate.
Web Address: www.back2school.net.au
Software: Reckon
Location: Sunshine Coast, QLD
---
Integration Features
Import:
Product data is imported from Reckon to the website and WorknLearn create booklists using the Kit Module in the CMS. Orders placed online are sent back to Reckon as an Sales Receipt.
Features:
Booklists are created using Kit module
Multiple price grades
Easy to navigate system for parents to please orders
Westpac Payment Gateway
Order on behalf module
Different delivery options per school
Delivery fee charged per family rather than each order
Customised checkout process
Authority to leave goods at unattended address enforced at checkout
Additional data sent back on order such as child's name, payment type and delivery options
Specific data such as school name & year is sent back to reportable fields on Reckon sales order to assist with reporting
---